"Purpose of study
Art, craft and design embody some of the highest forms of human creativity. A high-quality art and design education should engage, inspire and challenge pupils, equipping them with the knowledge and skills to experiment, invent and create their own works of art, craft and design. As pupils progress, they should be able to think critically and develop a more rigorous understanding of art and design. They should also know how art and design both reflect and shape our history, and contribute to the culture, creativity and wealth of our nation."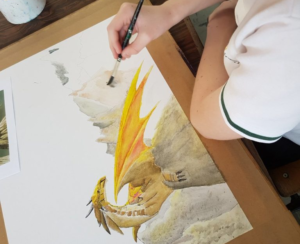 UWS embraces the above and fully supports the study of Art in KS3, and a significant number of students continue to study the subject at GCSE (consistently above 50%). The department sees the enjoyment of the subject and the confidence to work independently as being highly valued.
"At KS3 pupils should be taught:
to use a range of techniques to record their observations in sketchbooks, journals and other media as a basis for exploring their ideas
to use a range of techniques and media, including painting
to increase their proficiency in the handling of different materials
to analyse and evaluate their own work, and that of others, in order to strengthen the visual impact or applications of their work
about the history of art, craft, design and architecture, including periods, styles and major movements from ancient times up to the present day"
At UWS we plan the Art schemes of work to address the above. An important part of this is to have shorter teacher directed projects in year 7 and 8 which concentrate on the formal elements (line, shape, form, colour, tone, texture, pattern and space). Pupils learn to use a variety of media and techniques. This is intended to build confidence and increasing independence.
As well as completing pieces common to all, pupils are required to extend and develop ideas of their own. By the time they reach year 9 the projects are much more open to individual interpretation – e.g. Pop Art and Mental Health & Wellbeing. From the same starting point pupils develop their own project, choosing materials, scale of work and desired outcomes with increasing independence. All are encouraged to annotate work appropriately, to explain their ideas and insights.
In year 7 pupils look at art from ancient times and other cultures – Egyptian, Aboriginal, and Native American. This is used as stimulus for creative development, including responses to studying Olympic Pictograms. In year 8 artists studied include Velazquez (17 century), Picasso and Martin Craig Martin (current day). In year 9 the American Pop Artists are the starting point for the major project. Homework is set, as timetabled, to support the current project.
LINE, TONE  

Worksheets, sketchbook based. Pencil and pens. Line and tonal drawings of everyday objects. 

INSECTS 

Line and tonal drawings from A4 photographs. Use of a window viewer to enlarge. Variety of media.  

 

NATIVE AMERICANS Oil pastels and poster paint – working on a larger scale. HIEROGLYPHICS – water colours, ink pens. 

SIGNS and SYMBOLS 

Signs and Symbols continued, looking at ABORIGINAL symbols. Final development SPORT – small designs linked to chosen sport (ref to Olympic Pictograms) then larger designs. 

 
LOOKING AT ARTISTS 

Sketchbook based. First study Michael Craig Martin. Overlapping line drawings of art room and personal objects. 

Velazques Las Meninas – individual research and transcriptions. Concentrate on presentation. Link to Picasso and then individual choice. 


PERSPECTIVE  

Drawing skills – single point, double point. Drawing buildings (extended home learning) Windows and doors. 

ARCHITECTURE

Larger scale and variety of materials looking at buildings/architecture.  

Floor plans and dream houses. 
​
POP ART

 

ROSENQUIST 'I Love You With My Ford'. Favourite person, object, food. Planning sheet. 

 

 

Final outcomes – variation in materials, scale, theme. Paintings on canvas.

 

YOUTH CULTURE

 

 

self-chosen theme from working title.

 

Identify themes/issues and how other artists have looked at them

 

 

YOUTH CULTURE

cntd

. self-chosen theme from working title – moving on to larger work, free choice of materials. Linked to Mental Health Awareness
Art is a popular choice at GCSE. Candidates are entered for the AQA GCSE – Art and Design: Fine Art.
Why "Fine Art"?
The choice of specification reflects the resources available in staffing, equipment and accommodation. Candidates can still submit work in any media as part of their portfolio, but drawing and painting will be common to all.
A strong feature of the AQA Specification is that it gives centres a lot of flexibility to plan and structure a course in a way that suits them, so long as it covers the assessment objectives. The portfolio must include a sustained project that has a clear starting point or theme, and a journey to realise final intentions. At UWS all candidates complete first the Op Art project and then choose a second project from a list of themes and starting points. The element of choice is to encourage a personal response and greater engagement. This work should be completed in the main by the end of Autumn Term in year 11 (but the AQA requirements are still met by partial completion). There will also be a selection of further work which will vary from centre to centre. As part of their course year 10 pupils usually meet and work with visiting artists from the local area (e.g. Grassington Festival).
The second component is the 'Externally Set Assignment' – seven starting points provided by AQA. These are made available at the first timetabled Year 11 lesson in January and pupils choose one starting point. After unlimited preparation time they complete the work during a 10 hour supervised period (usually two days in April).
OP ART

Overview of Op Art, study two named artists, present work creatively. 

Work presented in sketchbook. 

Overview of Op Art, study two named artists, present work creatively. 

Work presented in sketchbook 

Final outcome – Painted canvas, painting, drawing, mixed media, collage. 

Choice of materials and scale. 

 

MAJOR PROJECT 

 

Choice of themes – for example: 

Flora/Fauna

 

Music in Art

 

Sport.

 

Choose one. Research artists who have been inspired by the above. 

Continue to develop your chosen theme. Use a wide variety of materials – experiment and vary the scale of your studies. 

Introduce drawings and photographs that you have taken that support your project. Write careful notes and annotations explaining your ideas. 

 

EXTERNALLY SET TASK 

 

Given to all candidates on the first week back in Spring Term of year 11 

Unlimited preparatory time leading up to the 10 hours Examination in May 2015 

 
Year 10: Summary of work completed, including time scales. 
Complete OP ART and start the MAJOR PROJECT 
Year 11: Summary of work completed, including time scales. 
Complete MAJOR PROJECT before Christmas Holiday, then concentrate on EXTERNALLY SET TASK 
KS3: Summary how units/work is marked etc 
End of unit assessment and feedback – usually half termly. 
KS4: Summary how units/work is marked etc 
End of unit assessment and feedback – usually half termly. 
KS3: Pupils are given a variety of homework tasks linked to the current project. 
KS4: GCSE pupils are expected to work independently in their sketchbooks throughout the course. 
The Art Room is available to students from all years at break and lunchtime every day. Priority is given to year 11 students during the 'Externally Set Task' period in Spring Term. 
When required there is the opportunity for further workshop time after school and during the Easter Holiday. 
Year 10 pupils are given the opportunity to work with visiting artists from Grassington Festival and have made a number of very successful large art installations displayed during the event.