'A high-quality geography education should inspire students to have a curiosity and fascination about the world.' The intent of our geography curriculum is to create a positive climate in which students are given a variety of opportunities to achieve excellence.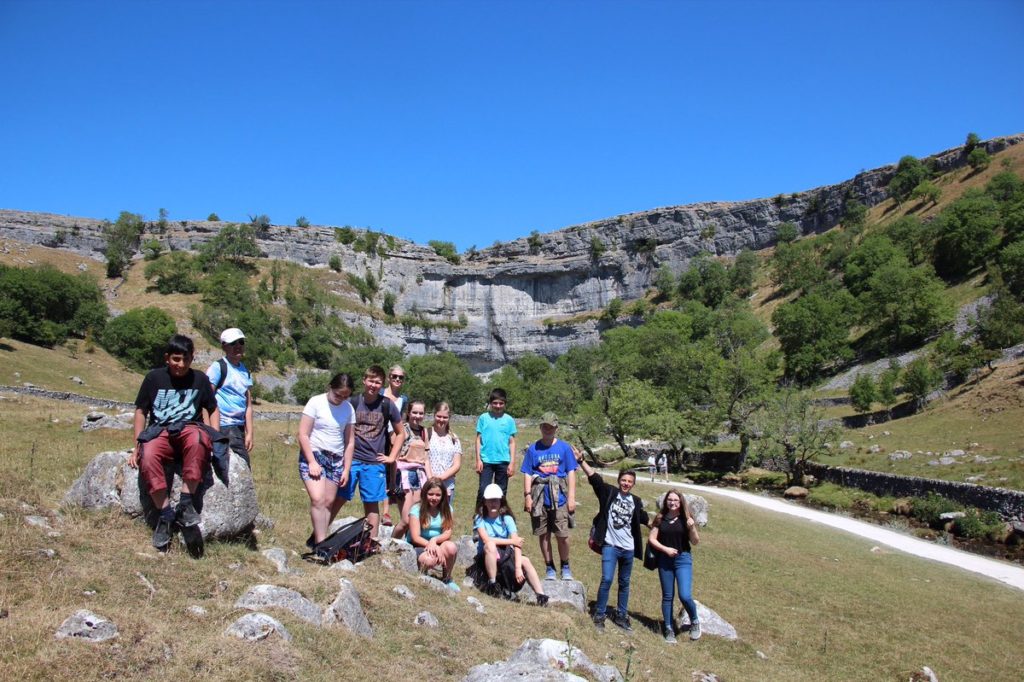 The Key Stage 3 curriculum follows the National Curriculum programme of study. Schemes of work are comprised of a clear mixture between both human and physical geography, with an emphasis on relevant geography. Our curriculum has a range of topic areas to fulfil the national curriculum requirements but still incorporate time to explore current issues in the news both for physical and human geography, whether it is a recent hurricane or earthquake, to the impacts of Syrian migrants. Students are able to bring their personal geographies into the classroom through project-based work, choices for homework tasks and self-guided tasks, where students are able to pick the focus. Local based studies are an important element of our curriculum, with year 7s investigating local settlements, year 8s working with the National trust and Yorkshire Rivers trust to KS4 fieldwork being located in Grassington. Local based studies can help to engage students in topics they may find more familiar.  Being a school in North Yorkshire, it is important for students to appreciate their location and how their everyday experiences of living and studying within Yorkshire are quite unique. Students are able to express well-balanced opinions about a range of current and contemporary issues. Their KS3 curriculum exhibits a real sense of curiosity into their geographical topics.  
The focus of year 7 and 8 geography involves the study of places at both regional, national and global scale. Our curriculum covers a range of human and physical topics to give students a real flavour of geography. We start with Kenya and investigate the physical and human features of this unfamiliar environment, leading onto the social, economic and environmental impacts of tourism. The other distinct country we focus on is China in year 8, with the investigation of The Three Gorges Dam, the South to North Water Transfer Project and China's one child policy. These countries allow students to investigate two very different levels of economic development. Our curriculum then builds a range of case study countries through the other topics, such as Bangladesh in Rivers, USA with Tropical Storms and the Maldives in Climate Change. 
Year 9 geography continues to build on case study knowledge with a range of places integrated into topic areas. This case study approach gives students a real global view of geography and supports the understanding of similarities and differences between low and high-income countries. These case studies include Haiti and Japan within tectonics, Brazil's Amazon rainforest within ecosystems, Alaska in cold environments and Rio de Janeiro during urban growth. Greater depth and knowledge is delivered through a range of lessons which explores key concepts in both the physical and human elements of these locations. 
The curriculum equips students with knowledge about diverse places, people, and resources as well as natural and human environments, with an underlying theme to support possible further education at GCSEs and A-Levels. KS3 geography gives students the opportunities to develop their map skills, data interpretation and research skills that are needed at KS4. Good progress at KS4 stems from good and outstanding progress at KS3. The combination of both physical and human fieldwork allows students to not just see these as separate environmental but builds on how these areas interact. The introduction of pre-release has made enquiry-based activities more important in both KS3 and KS4. Within every topic area there is an opportunity to complete an enquiry-based activity from our year 8 tropical rainforest debate to the management of volcanoes in year 9. 
The curriculum focuses on building writing and broader literacy skills. During assessments geographical vocabulary is used within mark schemes to support students with their geographical language. Students are expected to use these mark schemes during peer assessment to also check core geographical knowledge. Essay plans are used through KS4 to help develop and model high quality exam answers. Student feedback integrated into lesson through question based marking to stretch and challenge student understanding of a topic area. 
Fieldwork is an integrated part of KS3 geography at local, regional and national scales. Field visits show students how the knowledge they learn in the classroom is actually applied in real world situations and gives them the opportunity to visit places they might not ever visit on their own. It gives pupils a chance to learn hands on. Students learn to think spatially and use maps, visual images and new technologies, including geographical information systems (GIS), to obtain, present and analyse information. Our Skills based lessons at ks3 build on this fieldwork from using the school grounds to visits within North Yorkshire, leading to our KS4 visit to Iceland. 
Students have the opportunity to visit Iceland in KS4 as part of our Biennial educational visit organised by the geography and science department. We visit Iceland for three nights and four days, in which we visited the 'Golden Circle', Gullfoss, Strokkur Geysir, Frioheimar greenhouse cultivation centre, Hellisheidi power plant, Blue Lagoon, Seljalandsfoss and Skogafoss waterfall, Reynisfjara black volcanic beach. The visit is a huge success, students really engage in the physical and human geography that is around them. Aswell as the outstanding experience these student gain from the visit, they develop a wider understanding of both tectonic activity and sustainable living, vital aspects of the GCSE course. 
Additionally, the wider geography curriculum aims to generate enthusiasm and respect for our natural environment. Over the years, we have built strong connections with the National Trust and Yorkshire Rivers Trust who frequently work with the school both inside and outside the classroom. Our Eco group meet each week to propose ways for our school could become more environmentally friendly and sustainable, including the planting of 30 tree saplings during the Spring of 2019. 
Our curriculum inspire students to become 'global citizens' by exploring their own place in the world, their values and their responsibilities to other people. Sustainability underpins every topic, this allows pupils to understand how to protect and preserve our world rather than exploit and destroy it. Global citizenship is already an important element in geography. It is important that pupils can identify different links between countries and celebrate diversity. Students at Upper Wharfedale learn how their lives could affect people on the other side of the world. At the end of KS3, students should possess the ability to make geographical decisions about the way they lead their life. 
Year on year, the vast majority of Year 9 students choose Geography as an option as a result of both their enjoyment and progress in the subject. Outcomes have gone from strength to strength, with over two thirds of students achieving 4 or more levels of progress in 2017, with 93% achieving A*-C grades, then in 2018 the progress score in Geography was 0.63. A large number of students continue to study geography at A level and degree following their success at UWS. This success is not just seen at KS4, we have an extremely successful endangered species day, which invites our local feeder schools to study many aspects of endangered species on our planet. Each year the number of year 6's attending this day increases. 
China
An investigation into the physical and human geography of China. Case study focus on Chinas 'One Child Policy' and their huge Three Gorges Dam.  

Tropical Rainforests

 

Cause and impacts of deforestation in the Amazon. Sustainable management strategies to protect the rainforest.  

Climate Change

 

Cause, effects and management of climate change. Clear understanding of the evidence that supports a human caused climate change. Evaluate the range of mitigation and adaptation strategies  

Tropical Storms 

Cause, effects and management of tropical storms. Case study knowledge of a named tropical storm in a high-income country. 
Coasts
An understanding of coastal processes and coastal landforms. The cause, effects and management of coastal erosion.   
Glaciation

An understanding of glacial processes and glacial landforms. An investigation into glacial tourism.
​Tectonics  

​To understand how tectonic plates, move and the processes which take place between their boundaries. Volcanoes and earthquakes case study. Cause, effect and management of these hazards.   

​Ecosystems  

​An understanding of small and large-scale ecosystems, food webs and food chains. Case study on an introduction of invasive species within the UK. Large scale ecosystems under threat (Amazon Rainforest).  

​Hot / Cold  

​Environments  

​To understand how people and animals can adapt to extreme climates. To be aware of the opportunities and challenges of these extreme climates.  

Urban Growth  

The challenges and opportunities of urban growth in Rio De Janeiro.   
KS4 (GCSE Geography AQA 8035​)
Geography is a popular and successful GCSE option which is taught in mixed ability option groups. Students have three hours a week in year 10 and 5 hours over a fortnight in year 11.  
Year 10: Students will study Natural hazards (including tectonic hazards, weather hazards, climate change and extreme weather in the UK). The living world (including ecosystems, tropical rainforests and either hot deserts or cold environments. Physical landscapes in the UK (including the UK's relief and landscapes, coastal landscapes and river landscapes). Urban issues and challenges (including the urban world, urban change in the UK and urban sustainability) and the development gap.  
Year 11: Students will study a Newly-Emerging Economy e.g Nigeria. The changing UK economy. The challenge of resource management (including resource management and either food, water or energy management). Completion of two pieces of fieldwork and preparation for the issue evaluation based on the pre-release paper issued in March of year 11
KS3: Progress is reported to students using the words 'considerable, sound, some or insufficient' based on the progress they have made from their starting points.   
KS4: Exam Papers  
Paper 1  
Living with the Physical Environment
Paper 2  
Challenges in the human environment
Paper 3  
Issue Evaluation- based on a pre-release booklet which is available in March of year 11  
Fieldwork- completed in Year 11 
KS3: Homework at KS3 is usually in the form of independent learning projects which are set 3 times a year in each year group. The themes compliment and extend the topics being studied in class.
KS4: Students are set homework weekly. This can involve a variety of activities e.g. research, exam style questions, case studies or GCSE pod assignments. 
Student can access resources such as the GSCE POD website, as well as GCSE Bitesize and their revision guides. 
Additional Support in school and/or resources
Geography teachers are available most lunchtimes to discuss and support. 
Iceland visit in KS4 – A great opportunity for students to visit the land of ice and fire. Northern lights, blue lagoon and Skogfoss waterfall to name just a few of the amazing attractions we get to visit and see.  
We work with the Yorkshire Rivers Trust and National Trust on a frequent basis, running visits to the local environment and organising guest speakers to visit the department.