Developing skills and knowledge in Design and Technology is achieved through a series of tasks that become more open and personalised as students pass through key stages three and four. Rather than develop specific practical abilities or theoretical knowledge, it is the ability to approach problems in an effective way and to provide strategies when faced with design contexts that is developed. Creativity, adaptability and resilience are key attributes necessary for all to be successful in life if not in education.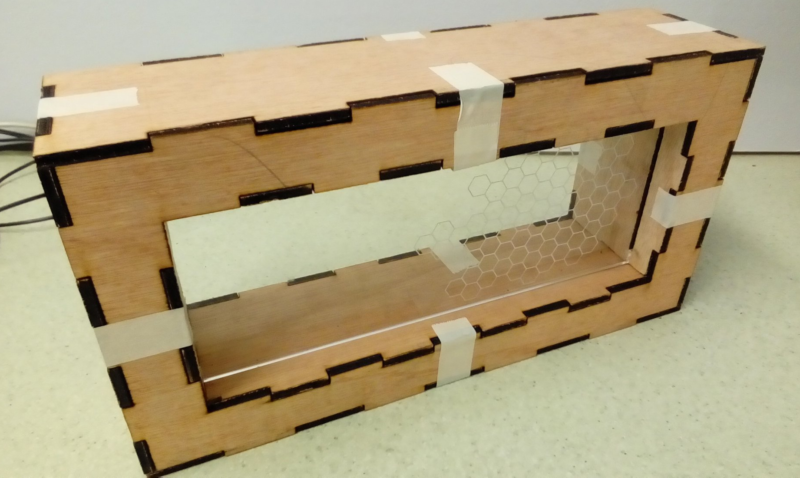 The first experience for students beginning key stage 3 is planned to help build confidence and an understanding of expectations. It is deliberately limiting in that the materials and processes are mapped out beforehand with only the shape and colour of the product varying between students. Whilst developing an understanding of expectations, use of tools, material properties are very important, it is the understanding that students have a skill set that they can grow and have control over which is the most important focus. Subsequent activities build competence by introducing new materials, processes and skills and challenges the students to develop through the iterative cycle – trying an idea, testing it and then improving it. As student's confidence increases the expectation is that they will be more prepared to take risks with their ideas and in doing so achieve more. There are opportunities for team work as well as peer tutoring which are deliberately introduced to prepare students for key stage 4 when students will have opportunities to personalise much more of their work with very much fewer taught lessons. They have gradually greater freedom to follow individual preferences so that by the end of Year 9 they choose their own situation to design for and take the approach they feel suits their skills best. Students are taught to work in wood, metal and plastic using hand tools, machines and computer aided design and manufacturing, they can focus on developing narrow expertise or a broader skill set- either approach will lead to success at GCSE.
H&S in the workshop. Skills development and design and production of an acrylic key-ring.
Micro-bit competition- developing a rocket car in teams of 4.
Using a laser cutter and 3D printer to create products.
Developing freehand drawing and CAD skills. ​ 
Electronics – the role of the transistor and how to solder. 
Working in metal –pewter casting.  Developing more CAD and CAM skills. 
Electronics and 3D printing/laser cutting.  Building a mood light and a house in card or PLA. 
Using mechanisms to create and control movement. 
Working with solid wood. Developing skills to work in pine to cut a half lap joint. 
Designing a container for a specific purpose – designing in response to a personally identified need. 
Designing an analogue clock – developing an individual approach to a common project 
By the end of key stage 4 students should feel confident in their ability to develop a high-quality product through the iterative design approach. The greater part of the course is given over to students identifying a brief of their own and creating a practical solution. The GCSE course requires experience of wood, metal, plastic polymers, paper/card, electronic products and textiles. Aspects of these are taught as focussed practical tasks that may take an hour or several weeks. Lessons may involve whole class teaching, individual or group work and students teaching each other. Key to the course is the maintenance of a learning diary by each student that serves to record what they have done and act as an aide memoire for future work. In year 11 students will undertake a non-examined assessment that allows them to showcase their talents and further develop their skills and knowledge.
| | |
| --- | --- |
| Non-Examined Assessment (NEA) (50%) | A project chosen by students selected from 3 briefs set by the exam board. |
| Written Paper (50%) | Questions covering designing, making, industrial practices in a range of materials. |
Over the year students will work individually and in groups on projects set by the teacher and selected by students.  Regular theory lessons will cover the knowledge and skills needed to be successful in the written exam. 
The focus will be on the completion of the NEA which will begin in September and be completed by the end of March. 
KS3: Assessments cover both design skills and completion of practical work.  Equal weighting is given to these two aspects. 
KS4: Assessments cover design skills, completion of practical work, written tasks and written exam papers. 
KS3: Set most weeks and supported/explained on Teams which is accessible through the school portal.
KS4: Year 10 students complete a learning diary which should record learning resulting from practical activities.  They also collect pictures for a scrapbook of great designs and particular companies including Apple and Dyson. 
​Student can access resources on Teams.​ 
Additional Support in school and/or resources
​Lunch time clubs are available for students who wish to catch up or extend their learning.
A range of STEM activities allow the students the opportunity to link learning in Design and Technology with Science and Maths in particular and are a major part of the curriculum for students in this subject. In years 7 and 8 there is a dedicated Deep Learning Day (DLD). Year 7 learn about the design of a rocket powered car for the Race for the Line competition. They then work in Design and Technology lessons in groups of four to build a car before racing them to select teams to represent the school at the regional final. In year 8 the DLD helps prepare students for the F1 in Schools competition in York – a competition we have been very successful in over the past three years.
Other opportunities are offered at lunchtimes with groups of students building three 3D printers and a CNC router over the last five years as well as students undertaking personal projects. Visits to engineering companies have included trips to Arconic in Sheffield and Guyson in Skipton with an upcoming trip planned to Rolls Royce in July.
UWS is also supported by Microsoft UK with talks and activities including a Hackathon organised for late June.
Students involved in these activities often work at a significantly higher level than their peers. They typically develop CAD skills that are outstanding allowing them to make much more effective use of our extensive range of CNC machines including routers, laser cutter and 3D printers. The proportion of high grades has risen and the subject is once again among the highest performing relative to national averages and subject residuals.
The development of these experiences over recent years has successfully reversed a trend where more able students and especially girls were not selecting D&T as a GCSE option and helped the subject to grow numbers even in the face of the short sighted eBACC.
As well as developing key life skills, the aim of the Design and Technology curriculum is to encourage students to consider and pursue careers in in STEM and to provide them with skills and knowledge to be successful. They are creative, seek opportunities to take risks rise to the challenges they face and are self-reflective.
Successful students are more frequently following courses careers in D&T related industries, there are several who have recently undertaken under-graduate courses and apprenticeships. One works at Williams F1, one designs sets for films including Star Wars whilst others have successful building, plumbing and cabinet making businesses.