Students have one hour of music and one hour of drama per week in Key Stage 3 at Upper Wharfedale School. They then have the opportunity to continue at Key Stage 4 with a BTEC in performing arts, should they wish to do so. Throughout their time at school and in Performing Arts, we aim to encourage personal development through practical participation and performance in a range of performing arts disciplines. We want to give learners a wider understanding and appreciation of performing arts and give learners the opportunity to develop a range of skills, techniques and personal attributes.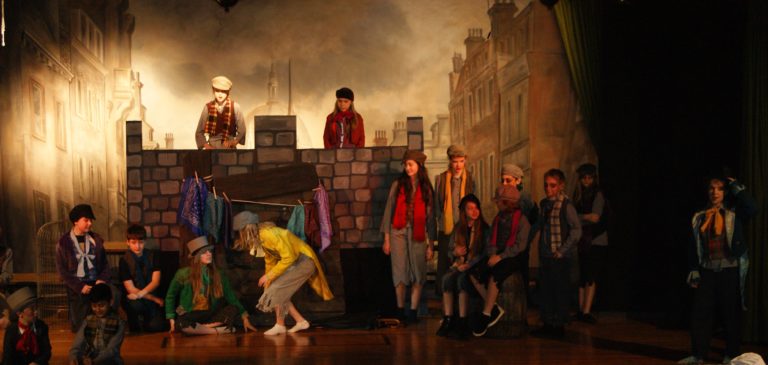 Year 7: Drama Students focus on the basic skills and conventions used in drama throughout this year.
| | |
| --- | --- |
| Introduction to conventions | This topic focuses on techniques used in drama to highlight the desired dramatic effect wanted in a performance. |
| Fairy tales | This topic explores a common point of reference where students work together to recreate and develop their own versions of events and perspectives. |
| Bullying | This topic runs over a full term.  This topic looks at the issue of bullying from all perspectives. |
| Problem page as a stimulus | This unit examines problems that occur, how to solve them and the consequences using new conventions to explore a stimulus. |
| Tinsel Truths | This unit looks at films, how they portray characters and situations and how films compare with real life. |
Year 7: Music Students focus on the basic skills and conventions used in music throughout this year.
| | |
| --- | --- |
| Elements of Music | This topic focuses on engaging students in active music making while exploring how the Elements of Music are used in a range of music from different times and places. |
| Rhythm and Pulse | This unit develops student's awareness of the importance of pulse as a fundamental on which music is built and performed. |
| Scales | This unit looks at scales. Students learn and explore through activities such as listening, performing, composing and improvising. |
| Form and Structure | Throughout the unit, student's listen to examples of music based on each of the musical structures they are exploring and compose and perform within these forms.   |
| Voice | Students learn about vocal harmonies and textures developing an understanding of the voice, how it works, breath control and vocal registers. |
| Band Project | This unit focuses on band instruments and students learn how to bring their part to contribute to the overall success of the band. The song focus is 'Chasing Cars'. |
Year 8: Drama Students focus on broadening their knowledge and emotional range throughout this year.
| | |
| --- | --- |
| The Journey | This unit focuses on the different types of journey we can take in our life. Students start to incorporate dance into their performance pieces. |
| Peer Pressure | This unit looks at the influence of peer groups and the possible consequences of peer group pressure. |
| Myths and Storytelling | This unit looks at how to highlight tension and create an atmosphere. Students explore different ways of telling a story. |
| Devising a theatrical experience | This unit takes all learning so far and puts it together, along with creative movement, to create a full class performance piece. This unit lasts one full term. |
Year 8: Music Students focus on exploring world music and understanding its influence on other genres throughout this year.
| | |
| --- | --- |
| African Drumming | This unit explores the main rhythmic musical features and devices used in African music, particularly the African drumming tradition of West Africa. |
| Stomp | This unit begins by looking at how "junk" and "recyclable" objects can be used as percussion instruments and explores the different timbres available from these non-conventional sound sources.  |
| Samba | This unit introduces the polyrhythmic style of Latin-American Samba. Through performing Samba, students will learn the sounds and understand the roles of each instrument used in Samba, learn about rhythmic loops, polyrhythms, call and response and improvisation. |
| Reggae | This unit explores reggae music and the culture it comes from. Students explore the strong and weak beats of the bar, syncopation and the effect that this has on reggae music. |
| Movie Music | This unit aims to give students the experience of being "film soundtrack composers" and explores the challenges and musical devices used in film soundtrack composition.  |
| Blues | This unit develops students understanding of bass lines and chords as a harmonic foundation upon which a melody can be constructed upon and as a foundation for improvisation.  |
Year 9: Drama Students start to explore elements that are focused on in the BTEC course, helping them to make a choice in their options.
| | |
| --- | --- |
| Beth Mansfield | This unit explores a controversial issue whilst developing conventions at a higher level. Through the use of role play, stimulus analysis and own opinion students develop their own views on a made up police case. |
| Musicals | In this unit students choose a scene from a musical which includes dance, singing and drama to recreate. It takes a full term and the final performance if done to an audience with costume, sound and lights. |
| Script writing | In this unit students use all the learning from over the three years to write and perform their own scripts. The stories can be entirely original or an adaptation of a story that already exists. |
Year 9: Music Students start to explore elements that are focused on in the BTEC course, helping them to make a choice in their options.
| | |
| --- | --- |
| Crazy | In this unit, students explore the genre of popular song, learning how different artists and groups have created different musical arrangements of the same song. Students then take the song 'Crazy' and perform it as a band. |
| Musical Futures | In this unit students choose their groups, instruments and then together recreate any song of their choice to perform as a band to the class. |
| Musicals | This unit links to work in drama and take a full term. It  explores songs and music from the stage |
| Musical Futures | Students have a second opportunity to choose a band and song of their choice to recreate. Using feedback from the last time they attempted this unit we focus on clear progression. |
| Clubs Dance Music | This unit focuses on electronic music and, with the use of an online software, students use loops and samples to compose their own dance music tracks. |
BTEC first award in Performing Arts
The course is run over two years and is broken down into three units:
| | | |
| --- | --- | --- |
| UNIT 1: Exploring the Performing Arts | Students develop their understanding of the performing arts by examining practitioners' work and the processes used to create performance. | INTERNALLY MARKED |
| UNIT 2: Developing Skills and Techniques in the Performing Arts | Students develop their performing arts skills and techniques through the reproduction of acting, dance and/or musical theatre repertoire. | INTERNALLY MARKED |
| UNIT 3: Performing to a Brief | Students are given the opportunity to work as part of a group to create a workshop performance in response to a given brief and stimulus. | EXTERNALLY MARKED |
Year 10: Unit 1 is completed in this time, during which pupils organise and perform in the Summer Showcase.
Year 11: Unit 2 is completed between September and December, comprising in a Winter Showcase.
Unit 1 is externally set by the exam board In January of this year and will be completed by the beginning of GCSE exams.
KS3: All students are formerly assessed at the end of each topic in both drama and music. These are filmed and then peer and self-assessed.
KS4: All students complete a mock for each unit before starting the Unit. Each unit is marked to the exam board criteria, either internally or externally, unit depending.
KS3: Homework is set on a carousel throughout the three years. It is then split between music and drama, meaning each year group will have one term of homework at least for music and drama.
DRAMA: Homework is set out in a homework diary where students log each lesson and the progress they make as an individual actor per week.
MUSIC: Homework is set as a term project. Year 7 students prepare a song to sing to the class and create a poster on their favourite band/ artist. Year 8 create a recycled instrument and get the opportunity to create a second poster on their favourite band/ artist. Year 9 focus on logbooks that link into work produced in KS4.
KS4: Homework is set around the BTEC, focusing on practice and completion of coursework elements.
In extra-curricular sessions our aim is to enhance and expand on classroom learning. This could be practically or theoretically. We want students to engage and inspire to develop a love of performing arts and so increase their self-esteem, confidence, creativity and sense of achievement in and out of the classroom.
Shows: One of our major events in the Performing Arts department is the school musical, which is an annual event. Students from all year groups are invited to take part. Aside from that we put on Showcases, where students are encouraged to perform their talents to an audience.
Lunchtimes: Choir runs once a week and is open to any students to join. We try to sing a variety of genres and styles. KS4 band work happens at other times during the week.
Trips: In KS4 performing arts students go on a three day trip to London where we see three shows, take part in a dance workshop at Pineapple Dance Studio, go on a backstage tour of a working theatre and other exciting activities. Dependant on 'what's on', trips to see professional performances of plays and musicals happen throughout the year.