The Performing Arts curriculum at Upper Wharfedale School has been specifically designed with our students at the heart of it. Our main focus within the department is to encourage and develop confident performers who have resilience and want to challenge themselves to produce high quality work, not only in performing arts but in all the paths their lives may lead to, establishing lifelong learners. We want to give learners a wider understanding and appreciation of Performing Arts and develop creative and critical enquiry and interdisciplinary learning through the spirit of teamwork.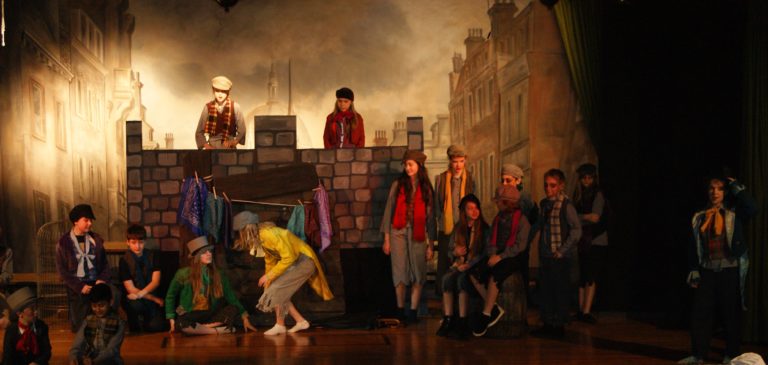 The overall aim of the department is to set students up to be confident, lifelong learners with the skill and passion to explore and develop their interests further. We aim to inspire and give our students the best opportunities we can to be creative, resilient and independent. 
Within the time in KS3, music and drama work together to extend the knowledge of our students. In music the three core areas of music are explored and developed; performing, composing and listening. At the beginning of KS3 students are introduced to the world of performing arts and a safe, creative environment is set up. This is essential to us as we want the students to feel confident on stage and then develop that into real world applications. 
In music KS3 begins with a development of the fundamental elements of music. Dynamics, structure, texture and tempo, to name a few, are introduced and explored through listening, performance and composition. When the students have a firm grasp on what makes up music, these skills are then applied to World music. Using this knowledge students develop and explore performance pieces or their own compositions in the style of the chosen genre. A few examples of these genres are Samba, Reggae and Blues. Alongside these key skills students participate in learning how to access stave notation, tab notation and graphic notation. Starting with a firm understanding of how to read these types of notation, students explore and perform on a variety of instruments. Students then go onto explore and compose their own music, using notation to scribe it down. From there, KS3 students work on independent, group projects to firmly embed the learning so far and deepen their understanding on evaluation and how to use this to progress. They are given opportunities to explore genres they are passionate about. This starts to focus skills like time management, ready for the KS4 course. 
Drama at KS3 follows a similar strand to music, intertwining where possible to concrete the understanding of the three areas of performing arts, drama, dance and music. KS3 starts with the development of basic skills used to make a scene more interesting, conventions. Examples of these are blocking, thought tracks, body language and facial expression. These skills are then applied to different scenarios created by the students in independent groups. Once ready, students then focus on broadening their emotional range, taking on more hard-hitting storylines, for example peer pressure and Greek Theatre. To firmly sequence these skills KS3 then have the opportunity to create a theatrical experience, using the stage, lights, costumes and the three elements of performing arts; dance, drama and music. From there we start to focus on linking all three together more solidly, create musical theatre pieces that are performed to the whole year group. This links in heavily to KS4 and gives them an idea of the work that is asked of them. Throughout KS3 drama students are encouraged to give feedback to themselves and others. This feedback is developed through written work as homework, gradually developing into critical analysis that can be found in the KS4 course. 
At Upper Wharfedale School we have decided to follow the Edexcel BTEC performing arts tech award and the BTEC music Level 2 award. We believe these courses are the best suited to our students as it allows such brilliant practical exploration and development. We have found that this approach is better for our students and gets the best results from them. It also sets them up well to continue in performing arts, especially on a professional level as the courses give them a good insight into the industry as it is today. This course allows all students to participate and does not hinder them if they have not learnt an instrument to a certain level, for example. We are also able to offer the music GCSE if we feel students are better suited to that course. As a small department we do everything we can to make sure each student has the right to follow the path that is best for them. The BTEC starts with the exploration and analysis of professional work. We link that to a trip to the West End in London where we see three shows, that we later look at in further detail. This trip gives students a fantastic opportunity to see our Capital, but also see professional performers live on a full working stage. On this trip we spend time with a professional learning choreography, we attend a backstage tour of a working theatre and explore other aspects and job roles within the performing arts world. From this trip we then spend time practically exploring scenes from the musicals and researching the interrelationships in the performing arts world. Once we have a firm understanding and have gained knowledge of what it takes to create a musical, students start to develop their own performing skills further. Choosing a chosen branch of performing arts each student uses critical analyses to show their progression with the chosen skill and applies it to a performance. The final unit is then given by the exam board and students work together independently to create a piece from a stimulus, ending with a final performance to an audience. The music BTEC follows alongside well to the tech award. Students are first set the task of creating their own showcase. They are in charge of every element and must work together to make the performance a success. From there they join the performing arts group in analysing and developing a skill of their choice, applying it to a piece and practising until it is ready for a final performance. The music group then prepare for an exam on the music industry. This focuses them on what it takes to be a part of that world, and all the different opportunities there are within it. This is a very vital unit to understand how the modern music society works and is brilliant knowledge for furthering themselves in this area. 
The course is run over two years and is broken down into three units: 
| | | |
| --- | --- | --- |
| UNIT 1: Exploring the Performing Arts  | Students develop their understanding of the performing arts by examining practitioners' work and the processes used to create performance.  | INTERNALLY MARKED  |
| UNIT 2: Developing Skills and Techniques in the Performing Arts  | Students develop their performing arts skills and techniques through the reproduction of acting, dance and/or musical theatre repertoire.  | INTERNALLY MARKED  |
| UNIT 3: Performing to a Brief  | Students are given the opportunity to work as part of a group to create a workshop performance in response to a given brief and stimulus.  | EXTERNALLY MARKED  |
The course is run over two years and is broken down into three units: 
UNIT 1: The Music Industry 

Students develop their understanding of different types of organisations that make up the music industry and the job roles inside the music industry. 

EXTERNALLY MARKED 

 

UNIT 2: Managing a Music Product 

Students plan, develop and deliver a music product, a Showcase. They learn how to promote the product and review the management overall. 

INTERNALLY MARKED 

UNIT 5: Introducing Music Performance 

Students develop their own music performance skills and review their practice. They use their music performance skills within rehearsal and performance. 

INTERNALLY MARKED 

 

UNIT 6: Introducing Music Recording 

Students learn about how to record music. They plan a recording session and use equipment safely to produce a multi-track recording. 

INTERNALLY MARKED 

 
KS3: All students are formally assessed at the end of each topic in both drama and music. These are filmed and then peer and self-assessed. In drama this is recorded in Drama Diaries and in music is all verbal. 
KS4: All students complete a mock for each unit before starting the unit. Each unit is marked to the exam board criteria, either internally or externally, unit depending. 
KS3:
Homework is set on a carousel throughout the three years. It is then split between music and drama, meaning each year group will have one term of homework at least for music and one, at least, for drama. 
DRAMA: Homework is set out in a drama diary where students log each lesson and the progress they make as an individual actor per week. This is also where assessment feedback is kept. 
MUSIC: Homework is set as a term project. Year 7 students prepare a song to sing to the class and create a poster on their favourite band/ artist. Year 8 create a presentation on an African instrument and get the opportunity to create a second poster on their favourite band/ artist. Year 9 focus online learning and the production side of a musical performance. 
KS4: Homework is set around the BTEC, focusing on practice and completion of coursework elements. This is not regular, and only set when needed. 
Students who have access to the internet can use YouTube tutorials to develop their skills on a chosen instrument. Listening to a wide variety of music at home can also be useful, especially if a discussion is then had about the chosen piece. If possible practicing at home on a chosen instrument and getting involved with local amateur dramatics can all be helpful to progressing in performing arts. 
Additional Support in school and/or resources
The music room practice rooms are available each break and lunchtime to be used for practice. These can be booked out each week. Students have full access to most of the instruments during this time. 
We also offer an extensive variety of peripatetic teaching. We have guitar, strings, woodwind, drums, keyboard and singing teachers available during school hours. 
Outside the classroom we offer a variety of in school and community based activities. Our school musical is open to all year groups and all abilities. It has grown from strength to strength each year. A large percentage of the school take part, whether on stage or off and learn vital skills that can be applied throughout all subject areas and later life. We have a choir that sings within the community, bringing joy to the community all year round. As a school we take part in two of the local festivals, putting on performances for large audiences. We also put on showcases at the school itself, inviting the community into attend. Alongside the London trip we also offer trips to local theatres to see shows as much as possible. All these activities give students knowledge and awareness of others and promote active citizens within the community.