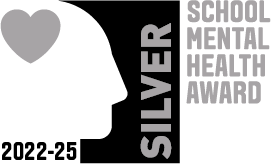 Upper Wharfedale school has achieved the School Mental Health Award which is delivered by the Carnegie Centre of Excellence for Mental Health in Schools. Upper Wharfedale School were awarded a Silver standard for its outstanding mental health and wellbeing provision.
Upper Wharfedale provides a wide range of activities to boost the wellbeing of pupils and staff, including working closely with the NHS's Mental Health Support Team, providing staff and student training and a range of intervention programmes  – 1:1, small group and as part of a tutor programme.
The school has also contributed to the developments of mental health and wellbeing provision across Yorkshire through its work with individual schools and in sharing best practice across the network. The school has also worked with the Mental Health Foundation to produce resources for other schools about the importance sleep and kindness and has appeared on BBC Newsround with students talking about the importance of Mental Health awareness.
Upper Wharfedale School Assistant Headteacher Helen Mukherjee said: "I am extremely proud of what we have achieved and that this has been recognised by the Carnegie centre for Excellence for Mental Health in Schools. All staff have undertaken aspects of mental health training which has developed the knowledge and expertise of staff which is utilised in many different ways. This sharing of knowledge has increased confidence and has continued to normalise talk about mental health. Senior leaders continue to invest time and money to enable staff to become upskilled in this area".
We are currently working with the Yorkshire Dales National Park and MHST to develop a 'Young Rangers" project focusing on wellbeing and the outdoors; the results of this are yet to be evaluated but the initial feedback from the students and staff has been extremely positive and this is something we will look to continue in the future.
Headteacher Catherine Reeves said, "this fantastic achievement is testament to the focus and commitment of all members of our school community to promoting positive mental health and wellbeing. We are extremely proud to have received this national recognition which acknowledges the importance we place on caring for and supporting all those who are connected to our school."
The award was established in 2017 by the Carnegie Centre of Excellence for Mental Health in Schools – part of Leeds Beckett University – and social enterprise Minds Ahead.
The Carnegie Centre of Excellence for Mental Health in Schools aims to strengthen pupils' mental health by supporting schools to make a positive change at all levels of the UK's education system, improving students' outcomes and life chances.
Rachel C. Boyle, Dean of Leeds Beckett's Carnegie School of Education, said: "The achievement of the Mental Health award is a demonstration of the school's significant commitment to improving children and staff's mental health and wellbeing. It is also a commitment to developing practices in school that seek to improve awareness and expertise in creating safe and secure learning environments in which all children can truly fulfil their potential. This award is one that all staff can be truly proud of".
Nationally, more than 1000 schools have signed up to take part in the Mental Health award.
Dean Johnstone, founder and CEO of Minds Ahead said: "This award shines a light on the excellent work schools are doing to promote mental health for their community of children and adults.
"It is thrilling and humbling to learn about Upper Wharfedale and the many other schools engaged in the quality award process. I'd like to offer my congratulations on this deserved recognition."